Sustainability
Values, Sustainability and Purpose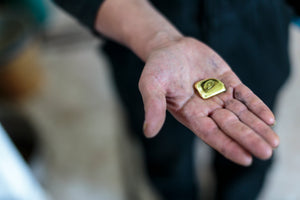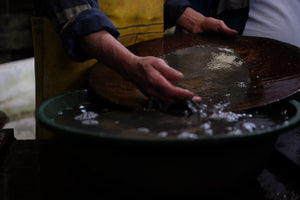 Dana Bronfman is committed to responsible sourcing and traceable supply chains that benefit miners, have safe cutting practices, and more. The designer is considered a leader in responsible sourcing in the industry and has spoken at the Chicago Responsible Jewelry Conference and regularly contributes to industry conversations on the topic. She is a member of Amazon Aid Foundation's Clean Gold Network, Ethical Metalsmiths, a Fairmined Licensee, and a regular supporter of Mercury Free Mining and Pure Earth.
Metals
Dana Bronfman has been a Fairmined Licensee since 2016. In 2018, fairmined gold became the gold material used in all Dana Bronfman one-of-a-kind and colored gemstone pieces and select pieces from the signature collection.
Dana Bronfman signature collections are created using recycled gold and sterling silver.
Fairmined Gold
Fairmined is an assurance label applying third party certification to organized small-scale artisanal gold mines that meet the highest ethical and sustainable standards in the world.
Fairmined creates beneficiation for the local communities and either excludes toxic substances or teaches miners to handle and dispose of them in a way that does not harm people or the environment. We consider fairmined gold an investment in a world where gold is mined responsibly, allowing people to live in harmony with the planet, allowing miners to make a living wage without poisoning themselves and the ecosystem that affects us all. 
Fairmined gold has a traceable origin to mines in Colombia, Peru, Bolivia, and Mongolia.
Gold will continue being mined due to its high value, and millions of people worldwide depend on mining to feed their families. Purchasing fairmined gold allows you to take part in developing the small-scale mining sector into a more sustainable model where the community and planet can thrive.
Learn more about fairmined here.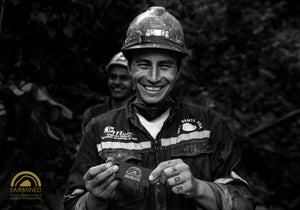 Recycled Gold and Sterling Silver
The gold and sterling silver in our signature collections, with some exceptions created in fairmined gold, remain in recycled metals which are identical in quality to newly mined metals.
Diamonds
Whenever possible, we use post-consumer recycled, vintage and antique diamonds that have been purchased from the second hand market through an SCS Global Services-certified supplier.
Our tiny meleé diamonds are from a combination of pre-consumer and post-consumer recycled sources, which are cut and polished in a fair-trade certified facility.
Diamonds do not lose quality or value over time and their durability allows them to remain good as new for many generations.
We also love the character that older cuts of gemstones embody. There are many diamonds in circulation already, so mining new ones or creating new ones in a lab is not necessary.
Dana follows the Kimberly Civil Society, which represents communities impacted by the diamond trade. It strives to improve the Kimberly Process, which is the imperfect process limiting the trade of conflict diamonds.
Ethically-Sourced Gemstones


We source gemstones with a known country of state of origin. We work only with a handful of the most reliable gemstone dealers in the world. All of our suppliers have strong connections to the sourcing communities and are aware of the conditions for miners. It is important that miners and cutters receive a fair price for their work, that child labor is excluded, and that working conditions are safe and healthy. Supporting people is as important as supporting the planet.
Giving Back
We contribute monthly to Mercury Free Mining and Pure Earth's Community-Led Reforestation and Mercury-Free Trainings in the Peruvian Amazon rainforest. You can be confident your purchase is directly making a difference to the environment as well as everyone affected by mining, toxic metals and deforestation.
Learn more about Pure Earth's program.