Introducing the LOVE COLLECTION
The rings in our "Love Collection" consist of vintage and antique diamonds and sapphires, contemporary sapphires from Montana and Australia, Colombian Muzo Emeralds and even Australian opal. Each piece consists of 18 karatfairmined-certified gold, which is the highest environmental and social standard for small-scale artisanal mines, actively ensuring the mining community benefits from their labor while respecting the planet in the process.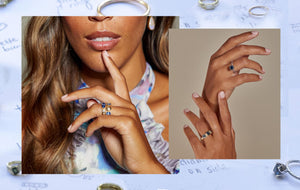 This is not only a bridal collection, but meant to celebrate all forms of love, from marriage to self love.  
Due to the one-of-a-kind nature of each stone, each piece is unique, but we welcome customization. We love setting clients' heirloom gemstones and can source stones for them as well in alternate colors, sizes and shapes.
The stones themselves inspired the designs, which are very architectural. Tiers of gold descend from gemstones, as in a staircase, representing each step on the journey of love.  The textures are designed to catch the light on the wearer's finger, reflecting the wearer's light, and adding to the pieces' longevity and durability, as the hammered finish is very difficult to scratch. Our oculus open space also allows the light to shine through and is a symbol of open-hearted connection.
The collection also features our signature "prong-bezel setting," which blends the modern designs and the mostly antique stones, and a new solitaire style inspired by a tulip.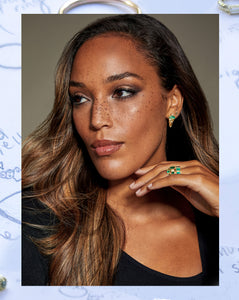 This was my late mother's favorite flower, and is a nod to my bonus mother who is passionate about nature conservation and imbued me with environmental values.
The environment and taking care of the people in our supply chains are just as important as our customers to take care of to our company, and that is why we have chosen to use these traceable and vintage stones, in addition to loving how unique and special each piece becomes when you design around these materials.